Imagine a future full of music. Create hip hop inspired cyberpunk versions of yourself and your friends in the megacities of 2085. Pump up the beats on the streets and build a community that evolves organically as you play. Hip hop is such a powerful tool for storytelling, as we have all seen with the wonderful success of Hamilton, so we wanted hip hop to help us tell the story of the future. All of this is available for you to hold in your hands with the Axon Punk tabletop Roleplaying game. No matter your experience with #ttRPGs, our Kickstarter is a great way to get into Axon Punk and support the Sugar Gamers. Back the Axon Punk Kickstarter before time runs out!
What is Axon Punk:
Axon Punk is an improvisational and collaborative tabletop Roleplaying Game (RPG) that is heavily inspired by hip hop and classic cyberpunk. In the game, you and your friends play as a team of hackers, engineers, cyborgs, AI, and others who are trying to be forces of change as the great war of global inequality rages on the streets around you. Because the game is set in the hyper-dense megacities of the future, the players together create a Community of locations and fellow city dwellers to interact with during play. Based on the choices the players make, the Community produces missions, gives rewards, and evolves over time – or it could be consumed by the chaos and anarchy caused by futuristic corporate oppression.
Who are the people behind Axon Punk?
In addition to the Wrong Brothers, we have lots of other wonderful people behind the scenes making Axon Punk a reality.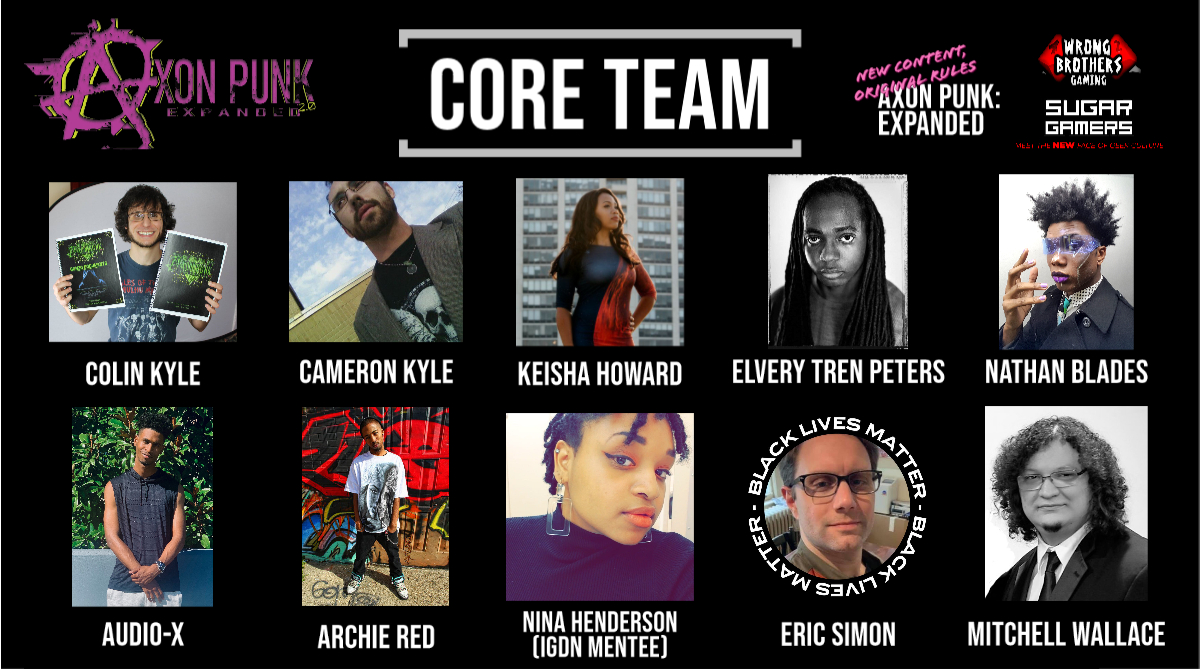 Select team member profiles:
Nina Henderson, Sugar Gamers – Nina is the community coordinator for Sugar Gamers, an IGDN Metatopia Sponsorship Winner, and our mentee. Nina is an important playtester and convention GM for Axon Punk. We are helping her developing her own game called "Knock Knock", that is about exploring and solving mysteries within an old house.
Nathan Blades – Nathan Blades is an androgynous android gameshow host from the future or a Tabletop RPG designer and streamer, depending on who you ask. Writing games about finding joy in a world hostile to you, they describe their work as 'Loud Gay Trash'. View their portfolio at arslingua.co.uk
Elvery Tren Peters – an essential part of the Dallas playtest group since the beginning, Elvery is a multi-talented artist and art teacher. Elverly was one of the first people to introduce Wrong Brother, Colin Kyle, to the intricacies and importance of rap music over a decade ago.
Audio-X – music producer that made the music for the Axon Punk EP. Originally from Atlanta, GA, and Florida, Audio-X moved to Chicago four years ago. We are incredibly grateful for his contributions to Axon Punk and look forward to making more music. Audio-X is a music producer that grew up in Florida and came to Chicago by way of Atlanta. He has years of experience making music and is currently honing his art at the SAE Institute of Chicago. Audio-X collaborative nature and futuristic vision are a perfect fit for the sound we want in Axon Punk.
Gorgeous art featuring Sugar Gamers members!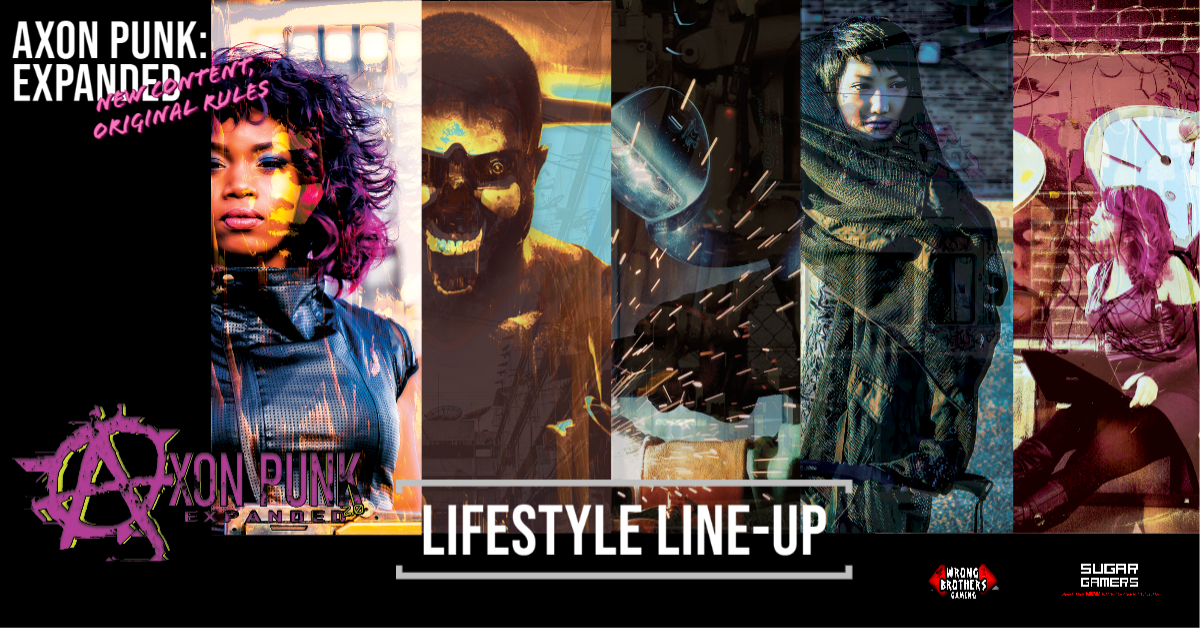 To achieve the street-level feel we want for Axon Punk, Cameron decided to pull from his many years of film photography training and modeled the environmental pieces off of the idea of "Street Photography":
"Street photography can focus on people and their behavior in public, thereby also recording people's history. This motivation entails having also to navigate or negotiate changing expectations and laws of privacy, security and property. In this respect the street photographer is similar to social documentary photographers or photojournalists who also work in public places…(1)"
Using this style of art allows Cameron to show the daily life and expressions of hyperreal people in the world of Axon Punk. Important photographers that he drew inspiration from include Ernest Withers, Carrie Mae Weems, Lorna Simpson, and others. Ernest Withers created stunning candid street photography documenting black history in America for over 60 years beginning in the civil rights era. Carrie Mae Weems is a ground-breaking, mix-media photographer who's work oscillates from surreal to hyperreal while commenting on issues like "racism, sexism, politics, and personal identity". Lorna Simpson is a wonderfully subversive artist who's "photo-text installations, photocollages, and films" are brilliant and flawless.