As the longest running and largest tabletop gaming convention in North America, Gen Con brings out basically everyone in the board game, card game, and tabletop RPG industries (530 companies exhibited at the convention). Along with tens of thousands of amazing tabletop enthusiasts crammed into a handful of blocks of downtown Indianapolis, Indiana, Gen Con represents the "best four days in gaming" to many many people.
After two pandemic years, Gen Con 2022 welcomed over 50,000 people back to its winding halls. Returning to in-person attendance means a lot for conventions of all fandoms, but gathering together with friends is especially huge for fans of tabletop games. The pandemic cut away at a huge core component of the tabletop industry and hobby – gathering total strangers around tables to talk loudly and enthusiastically at each other for 2-4 hours a sitting before switching to another table of completely new strangers.
As Gen Con returned to Indie, so did the Sugar Gamers. Our fearless leader Keisha Howard along with Dr. Colin Kyle, Gen Con veteran of 5 years, traveled to cover the event and rejoin the fray. Keisha and Colin, along with other Sugar Gamers, work on multiple tabletop projects, including SG's own solarpunk tabletop RPG, Project Violacea, which we also brought to demo at the convention!
After the wait, we experienced the magic that comes from seeing/feeling game pieces, dice, cards, sheets, and meeples while playing with friends IRL during the absolute whirlwind that is Gen Con. While it is a huge convention full of piles of people from all over the world, the convention feels very intimate and welcoming. People go to this convention to interact with other people – no matter your tabletop niche, you can find it at Gen Con. The games, cosplay, smaller room layout, and general con culture all provide pathways for interacting and interfacing with people.
To help with all this interaction, Gen Con includes supportive places like Indie Games on Demand, Double Exposure's playtesting hall, Indie Game Developer's Network's gameroom, and many others that actively use safety tools, like the X-Card and "Lines and Veils". Safety tools and the systems used by these locations help ensure healthy gameplay that is fun for everyone at the table.
A delightful mix of new and familiar, a huge part of the appeal of Gen Con for gamers is seeing wonderful faces you've known for years but only ever see at Gen Con. Colin always looks forward to seeing people he met at his first Gen Con in 2015 and every year since. Other people have decades-long RPG campaigns that they play with the same people every year at Gen Con.
To see the top designers in the tabletop industry, we attended the Diana Jones Awards, which went to Ajit George for his pioneering work to build a "more representative hobby games industry" , where we saw industry friends old and new. We also stopped by the ENNIE Awards, which highlighted many amazing games including this year's show-stopping "Thirsty Sword Lesbians", which won awards for both Best Game and Best Product. While at the ENNIEs, we relived dear memories of "Hackers", "Scream", "SLC Punk" and "Thir13en Ghosts" when we saw Matthew Lillard, who was hanging out at Beatle and Grimm's table being super supportive to every creator who walked by – it was amazingly heartwarming.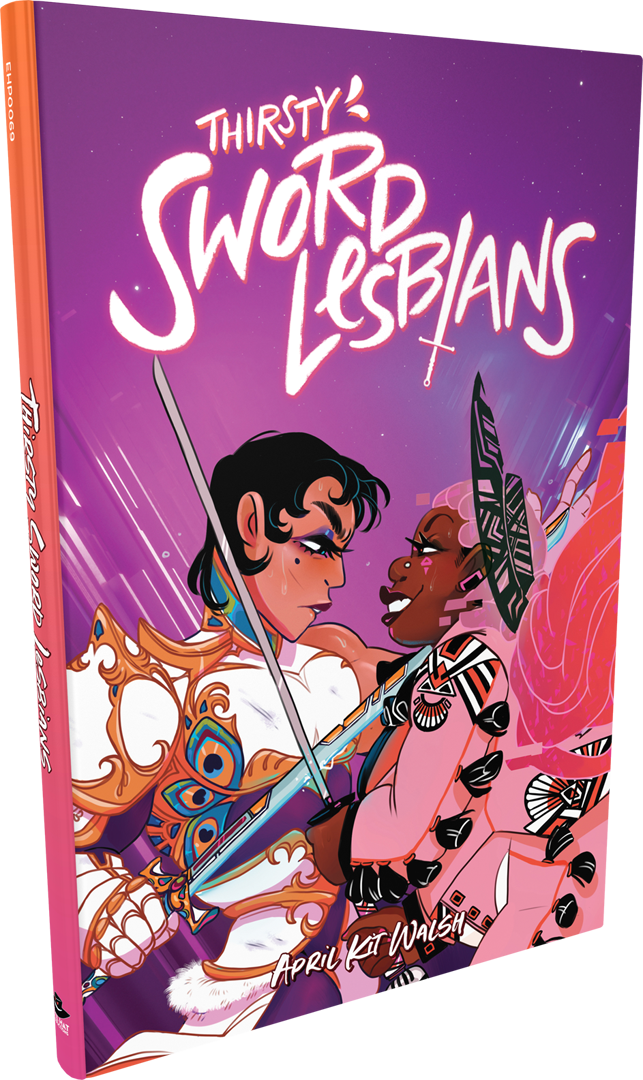 A big highlight of the awards ceremony was running into & crew from Colorway Game Lab. Colin backed their game RAP GODZ so it was awesome to hear about what new things they are working on – Critical Care, like a boardgame based on being doctors in an ER made w/ actual ER MDs. So cool!
Gen Con absolutely delivered its own unique brand of interactive, fantastical fun this year in 2022. From first-time gamers to indie groundbreakers to lofty tastemakers to red dragons and giant robots, Gen Con is an experience you should try if you have not yet. If we didn't see you there this year, hopefully we'll see you there in the future!
Did you go to Gen Con this year? Let us know your thoughts on Sugar Gamer's social media! What was your favorite part? If you couldn't make it – why didn't you go? How about that wind farm on the way there from Chicago?