With the success of Axie Infinity, gamers have started looking for the best blockchain games to play.  Lets have a look at the top 15 blockchain games in 2021
What is a Blockchain game?
Before we get too far, let's go over the basics.
A blockchain game is simply a game that is powered by the blockchain network. This is done by integrating cryptocurrencies as a form of payment in the game and usage of non-fungible tokens (NFTs) for users to acquire and own special assets within the game's ecosystem which can be traded with other users of the game or for transferring them across different platforms.
The blockchain stores information about the gaming ecosystem such as the owner of the game's items as well as the worth of those items. This ensures secure trading of the items where the buyers can trust the items, deeming them to be genuine and sellers have access to a record of the sales which have taken place.
Smart contracts can also be utilized by the game developers to make the process efficient and more transparent for the users.
Cheating is nearly impossible when playing blockchain games and ever player's moves are tracked and recorded. Blockchain offers a platform for developers to create games that can be experienced on a different level, when compared to ordinary games.
Blockchain games also provide an opportunity for players to monetize their time used for playing the game. Some extraordinary and experienced players can earn tangible or physical rewards for their high level of skills and other users who are interested in the creative aspects of the game, can design as well as sell items in the game that are collectible in nature.
Axie Infinity: Best Play and Earn Blockchain Game of 2021
Axie Infinity is a game based on the Ethereum blockchain network. It was launched in May 2018 in Vietnam. It was developed by Sky Mavis Studios, a Vietnamese studio. The game is supported by smart phones with Android and iOS and Microsoft for other devices as well.
Axie Infinity utilizes the AXS and SLP that are based on the Ethereum Network.It has partnered up with several established organizations such as Samsung, Ubisoft and Binance. Smooth love portion (SLP) and Axie Infinity shards (AXS) are listed on Binance for buying or selling. It obtained sales of over $42 million USD in June 2021 and the game is the most expensive collection of NFTs (non-fungible tokens) currently.
The game is based on fictional, fantasy creatures known as Axies. Players are required to collect the Axies (monsters) by teaching, feeding and fighting them in battles. It is similar to Pokemon Go where users collect Pokemons.
It is not a free game. Players are required to purchase and build their Axie Team which consists of 3 types of Axies. Every Axie can cost at least $200 USD or more.
Cons: High cost of Axies is a barrier entry for many. So even though you may want to play Axie Infinity, because of the high cost, this can be a let off.
Blankos Block Party
Blankos Block Part is a MMO that runs on the Ethereum blockchain network. Blankos are vinyl toy figure, that players can collect, customize, and play by taking on their avatar. The toy figures live in a world created purely for enjoyment. The setting is technically a giant block party for these Blankos.
It is available only on devices supported by Microsoft Windows. The status of the game is Beta currently, giving its users early access. Blankos Block Part is a game filled with innovation, enjoyment and customization which appeals to users. Players can create an account and play the game for free on the PC.
Unlike Axie Infinity, there are no Blankos token you can buy or earn. Just NFTs you can buy, earn and trade.
Gods Unchained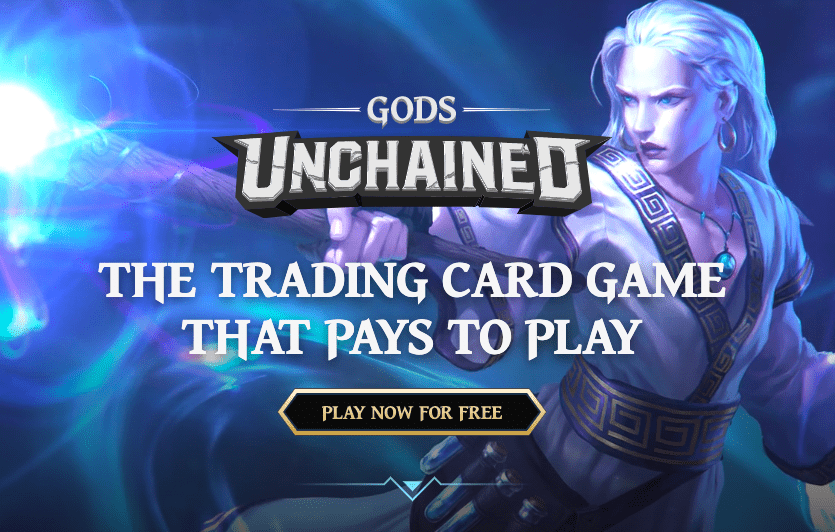 Gods Unchained is one of the most popular blockchain games that is infused with crypto. It is a player versus player, tragedy game. It runs on the Ethereum blockchain network and Immutable-X. The game is currently in the beta stage, and is available on devices supported by Microsoft and Mac OS.
It is an online trading cards game where players can own the cards, which are digital assets in the form of tokens that run on the blockchain. The game can be played free of costs. It is extremely similar to Blizzard's very popular "Hearthstone: Heroes of Warcraft". Players are required to make use of wallets that are compatible with Ethereum supported products, such as MetaMask for buying or selling cards. ETH is needed to purchase anything on the game.
$GODS token is not yet live for anyone to buy and sell. The project has a backing from Naspers, Coinbase, Galaxy Digital, Apex Capital, Nirvana Capital and Continue Capital.
Lost Relics: Enjin Based Blockchain Game
Lost Relics is an Action-Adventure Role Playing Game (AARPG) where the players can own and earn the items that are backed by blockchain. The game and its items are powered by the Enjin blockchain network. The items are generally ERC-1155 items (Ethereum) , they are tangible assets with real value in the world. Players can choose to own, buy or sell them.
It is a dungeon crawling action game that was built by Cliff Cawley. Players have to explore Talmauth which is the land above the dungeons that include various locations such as the Royal Emporium, Tavern, General Store and many more. Users set out on quests to search for valuable and precious relics while saving the folk in the town from the dangerous beasts. It is currently in the Alpha stage and is available on devices supported by Microsoft and Mac OS. Lost Relics is a free to play game.
Formula E: High Voltage – Blockchain Games Based on REVV token
Formula E: High Voltage is a racing, management game that is competitive and runs on the Ethereum blockchain network. It is still under development and available to pay via the web. The key assets in the game, Formula E: High Voltage can be completely owned by players, as the assets exist in the form of Non-Fungible Tokens (NFTs). The game also uses the REVV token, its is also a part of the Play-to-Earn game within the REVV Motorsport ecosystem. Players can sign up for their newsletter to receive updates on the game by providing their email ID.
Foxy Equilibrium: Binance Based Blockchain Game
Foxy Equilibrium utilizes Foxy NFTs (Non Fungible Tokens) which are BEP 721 tokens powered by the Binance Smart Chain (BSC). Players are allowed to interact with NFTs, feed and breed them, or find dying NFT's to kill for rewards in the form of EXP. It is categorized as a game under the genres of art, auto battle and battle royale. It is available on the web only and is at the live stage currently.
Foxy Equilibrium token is available for purchase on Pancakeswap.
CryptoZoon
CryptoZoon is a blockchain game powered by the Binance Smart Chain (BSC). It is categorized under DeFi, Collectibles as a fighting game. CryptoZoon and Binance Coins (BNB) are the supported crypto tokens.
CryptoZoons are required to fight Yaki Monsters each and every day. The player is required to choose the creatures they wish to use in the battles , equip them along with suitable weapons. These items can be purchased in the market place. A gas fee in the form of BNB tokens has to be paid for players to combat any chosen enemy.
The stronger the enemy, the greater is the reward.
You can buy Cryptozoon tokens on Pancakeswap, Dodo and MEXC.
Crypto Blades
Crypto Blades is a Play to Earn RPG, NFT (Non Fungible Tokens) role play game which has been launched on the Binance Smart Chain (BSC), developed by Riveted Games.
Users need SKILL tokens for various function within the game's ecosystem. Players obtain legendary blades after the defeat of their enemies and participation in raids, these players are rewarded with SKILL tokens.Players can use other additional characters for forging of unique weapons, and reforging those weapons to increase their overall power in the game. Characters as well as weapons can be traded via an open marketplace. Users can also stake their SKILL tokens and receive additional SKILL tokens in the form of a reward. The blockchain game's stage is live and can be accessed through the web.
Skill tokens is the native token of Cryptoblades. They are available for purchase on Pancakeswap, BKEX, Dodo, Gate.
Chicken Derby
Chicken Derby is a play to earn breeding and racing game. It is powered by the Ethereum blockchain network and the Polygon Network (previously known as Matic). The game is currently at the pre-sale stage and can be accessed only via the web currently.
Players can earn or generate Ethereum tokens (ETH) from racing your chickens as rewards. The chickens can be sold to other chicken owners to gain a profit. Besides this, users can additionally breed their chickens to be the best racers and create a strong offspring as well.
Users can enter and compete in a race only with one chicken. These races are conducted on live.
Crypto Beasts
Crypto Beasts is a fantasy, breeding game. It is a Massively Multiplayer Online Role-Playing Game (MMORPG). The state of the game is under development currently. It is fueled by the Ethereum blockchain network. The supported NFT for the game is CryptoBeasts and the supported tokens are Ethereum based.
Crypto Beasts involves a Peer-to-Peer (P2P) Electronic Rare Eggs System which was launched in the year 2017. The CryptoBeasts token is a unique, native token with novel utility within the game's ecosystem. The rare eggs token has a limited supply of only 10,000 units. Every token is one of the 1,000 beasts belonging to ten different species or types. The rare egg token can be hatched after a certain period of incubation and check the Crypto Beast's capabilities. Players are allotted with a land of property in 'Eggland' which is the setting of the game by default. Players can purchase these rare eggs on a secondary marketplace on OpenSea.
Age Of Rust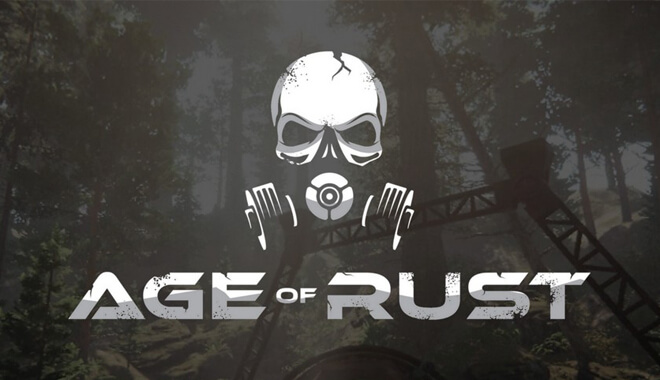 This sci-fi adventure puts the player in the role of an explorer. You make your way through a variety of environments, namely space stations and caverns. While doing this, you can earn cryptocurrency.
This game is stunning. It totally looks like an early build of the next entry in the Halo franchise. So far, it seems to have elements of Deus Ex, great puzzle-solving gameplay, and more. Your ultimate reward is getting crypto for solving puzzles and finding the hidden treasure.
Crypto Space Commander
CSC's motto is 'mine, trade, battle, craft', and you'll do just that. Set in space, CSC evokes imagery of No Man's Sky in the blockchain universe.
Hopefully, it has a better reception! You'll venture to different solar systems, look for resources, and even battle pirates. I love the ambition of projects like these. It promises true freedom, and it reminds me of gaming greats like Wing Commander and EVE Online.
Reality Clash
Billing itself as the 'world's first AR combat game', Reality Clash puts you in that sweet spot of augmented reality to battle friends and computer AI.
You'll actually defend and navigate around your location, defending local points as if they were something out of Hardcore Search and Destroy in Call of Duty. The concept is awesome, and I could see this becoming a craze.
Unfortunately, the 3 countries it's not available in right now are the United States, China, and South Korea. However, they're coming soon, and the rest of the world has immediate access to taking the battle to friends in your hometown!
pixEOS
'Where games and art collide' is this cool little project's motto. This is truly a unique title in that it displays artwork from users and shares them with the fellow art community.
This is a great step forward not only for gaming but for art and art criticism. This is one of those titles that will benefit someone in multiple ways. Maybe someone was self-conscious about their work, but this game helped them finally show it off.
It's a growth opportunity as well as a gamer-centric decentralized experience. They will often hold contests and artist competitions within the community for an added layer of immersion.
Evolution Land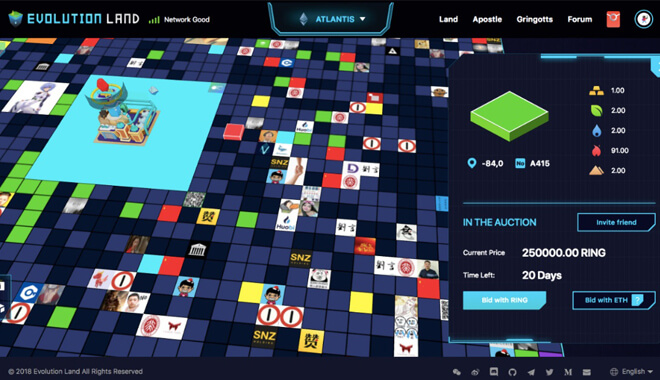 Spanning 26 different continents, Evolution land puts players in the blockchain model of gaming by dealing with cross-chain transactions.
Players will mine the land, look for resources, set tax rates on the land, buy, and sell the land, and more. It mashes up different types of gameplay like auctions, micromanagement, combat, and much more.
The different continents will eventually evolve into different nations, and it will inevitably lead to conflict between the countries. Trade wars and everything that comes with conflict will be available.